We're excited to announce the release of a long-overdue feature here at The Lupulin Exchange: Profile Scores! All listings now prominently display the seller's past performance so buyers know exactly what to expect before checkout. You can find your own score by clicking My Public Profile from the My Account icon: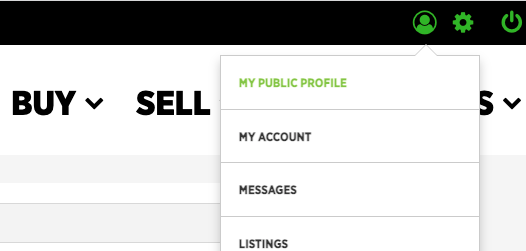 Why are we doing this? Because The Lupulin Exchange isn't just some company that sells hops. The Lupulin Exchange is thousands of companies that buy & sell hops. It's an ecosystem; a community of brewers, growers, and hop merchants. And in a community with thousands of members interacting, it's helpful to have easy access to each member's track record so you can avoid dealing with folks who typically don't ship within your desired timeframe, have a history of creating bad listings, or are just good at creating headaches for others.
We've had a peer rating system for 7 years, but as you can see from the reviews below left by a couple of brewers for another brewer (whom I won't name), clearly ratings alone aren't enough: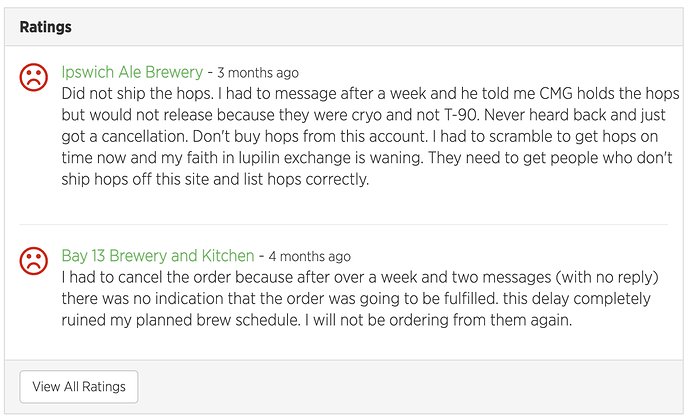 We needed a better way to communicate an individual community member's performance across multiple metrics. Version 1 of Profile Scores does just that; taking peer ratings to the next level (or "to the HNL" if you're a Eugene Struthers fan). Now, in a glance, you can figure out how quickly any given seller ships, how often they cancel because they ran out of stock but forgot to update their listings, how long it takes them to respond to messages, and more.
I say "version 1" because I hope the community gives feedback that helps us improve these metrics & scores over time. Are there other accountability metrics that you want to see? Let us know. Like any v1, it's not perfect but we'll iterate like we always do, so you should feel it get closer to perfect over time.
We spent a lot of time agonizing over how to make Profile Scores fair for everyone, and boy was that a challenge! What score should someone with lots of purchases but no sales have? How should they stack up against big hop merchants with lots of orders every day & super-fast shipping? What about the small brewery that only shows up every other year to buy or sell 1 box of hops? Should we give buyers & sellers separate scores? Things got complicated, fast. Here's where we landed…
How it Works
First of all, this isn't a competition of who can buy or sell the most hops; the focus is on responsible behavior and accountability. Metrics are displayed (and weighted) in the order of greatest importance. Your reviews & reliability matter most, but if you don't have any reviews because you've never sold hops on The Exchange, you're not penalized. You're also not penalized for Shipping Speed or Response Time if you've never made a sale or received a message. And if you're logged into the community site, you're getting points right now just for reading this post!
Reviews = 100% - (Positive Ratings Received / Total Ratings Received)
Reliability = 100% - (Orders I Canceled / (My Sales + My Purchases)) *Only applies to orders after 10/15/2021
Shipping Speed = 100% - (1 / 336 x (Time of Carrier Pickup Scan - Time Action Required Email is Sent to Seller))
Response Time (AKA Seller's 1st Response Time) = 100% - (1 / 7200 x (Time of Seller's 1st Response - Time of Buyer's 1st Message for a Given Order or Listing))
Community Engagement = Percentile rank of participation in The Lupulin Exchange Community, calculated as follows: Received x 100 + Days Visited x 1 + Time Read x 20
Recent Purchases = Number of purchases in the last 90 days as a percentile, ranked by account type (ie Merchant/Grower, Brewery, etc.)
Recent Sales = Number of sales in the last 90 days as a percentile, ranked by account type (ie Merchant/Grower, Brewery, etc.)
Your total score is a weighted average of all scored metrics (ie all metrics ≠ "N/A"). Reviews & Reliability have double the weight of Shipping Speed, which has double the weight of Response Time & Community Engagement, which has double the weight of Recent Purchases & Recent Sales.
Keep in mind that your score only gets updated every 12 hours, so if you had 0% community engagement before you started reading this, check back tomorrow to see your improved score.