My name is Shane Kunkle. While I know a bit about beer – I know very little about brewing. I do know a thing or two about data. In real life, my company collects and analyzes data for some of the biggest government agencies and companies around. Here at The Lupulin Exchange we are all about transparency and data – so in my blog posts, I'm hoping to regularly publish data that is useful and easily digestible. In my first blog post – we'll examine "Today's Most Wanted Hop Varieties".
The Lupulin Exchange has a really cool and totally free feature called Hop Alerts. Brewers can setup multiple Hop Alerts for the varieties of hops they want to buy. When those varieties are listed for sale, they are emailed instantly with all the details - price, location/broker, alpha acid, packaging and more (including a link to quickly buy).
If you have not already done so, I highly recommend setting up free alerts for your varieties of choice
As of Wednesday October 1st, 2014 - brewers had already setup just over 430 hop alerts. We can leverage this data to see what varieties brewers are most interested in buying.
To begin, we look at the most popular varieties sorted by number of subscribers. As an added bonus, we've also grouped the buyers by US region (west coast, east coast or central). For brevity, I capped this graph at the top 35 varieties.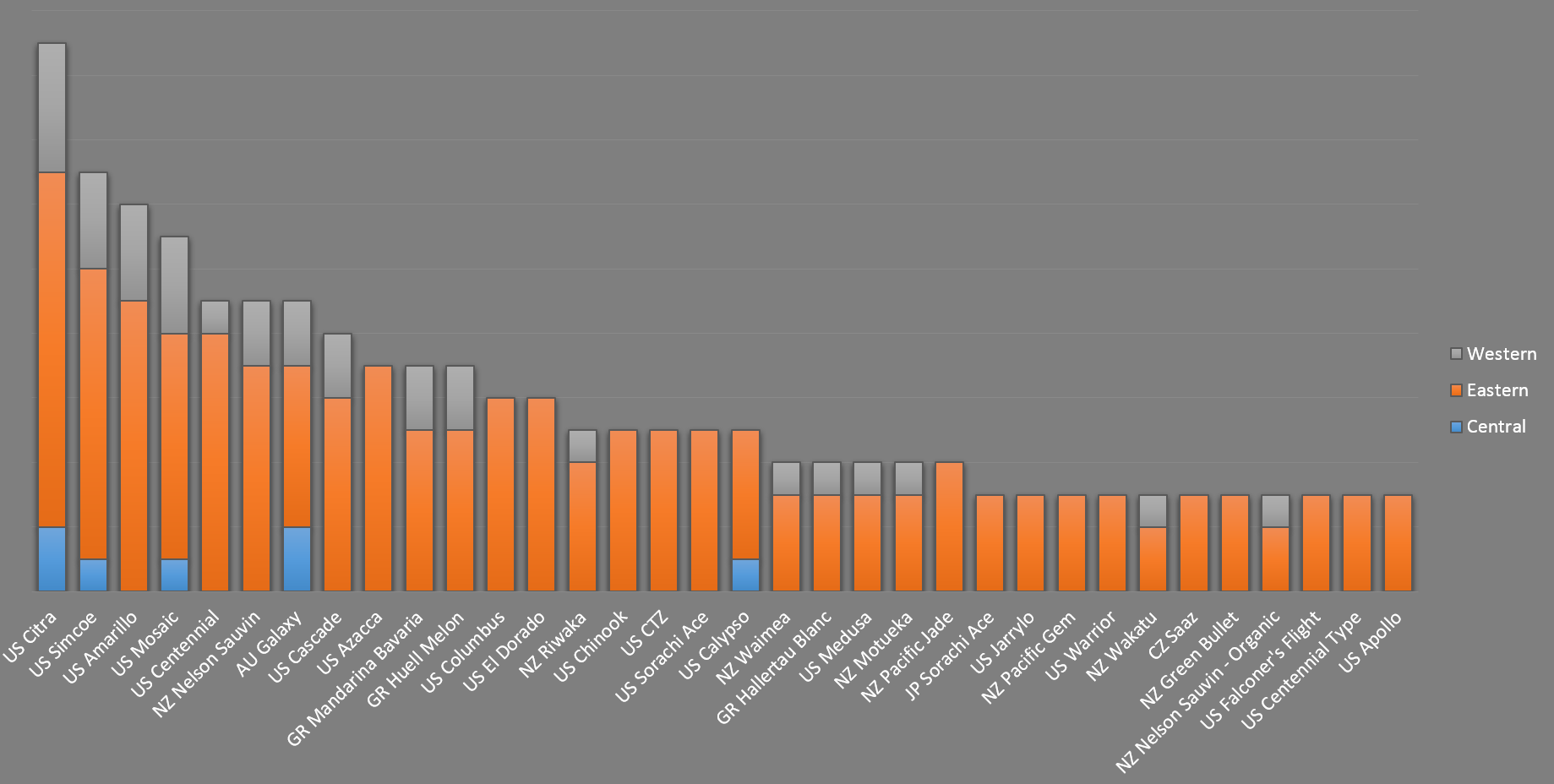 I also cut the data by the country – this data isn't unbelievably illuminating given the number of varieties grown in the United States.
Thanks to five new listings last night - there is actually quite a bit of overlap between hops for sale on The Lupulin Exchange and this data (ranked by variety popularity):
I'm looking forward to returning in a week with a new graph or two. The first follow up post that came to mind was comparing this data (variety popularity) vs acreage harvested (by variety) - it would be interesting to see if there's an imbalance there.
In the meantime, please feel free to comment with your questions or your ideas for future posts. Thanks!