We are constantly pushing new code to The Lupulin Exchange. Here's a recent favorite. First, some background: Most hop brokers are more than happy to bill shipping charges to the buyer, but there are a few brokers that just won't do it. (Sellers: Brokers listed in our dropdown menu will bill shipping to buyers. Simply select Other if your broker isn't in the list.) Also, occasionally a broker makes a mistake (they are human) and bills the contract holder (seller) instead of the buyer. Well…problem solved:
It wasn't easy, but our developers built some pretty slick functionality that allows buyers to quickly and easily reimburse sellers who got stuck with the bill for shipping charges. Here's how it works:
Sellers click Request Reimbursement from the Order Details page (My Account > Sold > click View for the order in question)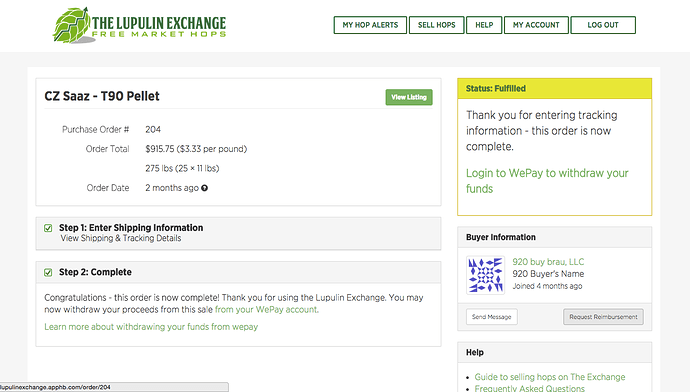 That opens up a window where the seller can enter the details and immediately send the request to the buyer. The buyer will be expecting the request - they've agreed to pay shipping charges during checkout. Sellers can even attach an invoice (optional) to prove the charges.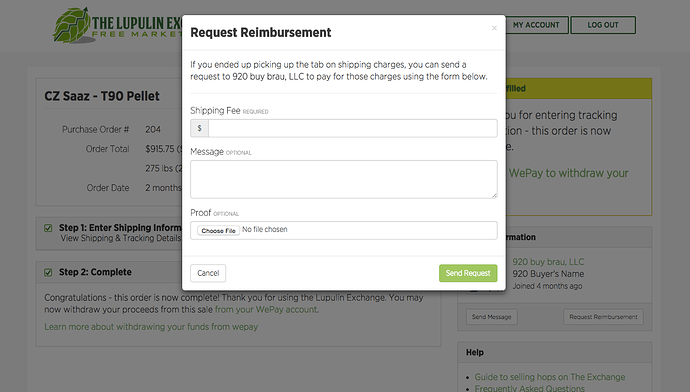 The buyer receives notification of the request by email and can quickly reimburse the seller by credit card or bank account. (Note: The buyer will pay a 5% payment processing fee on this transaction)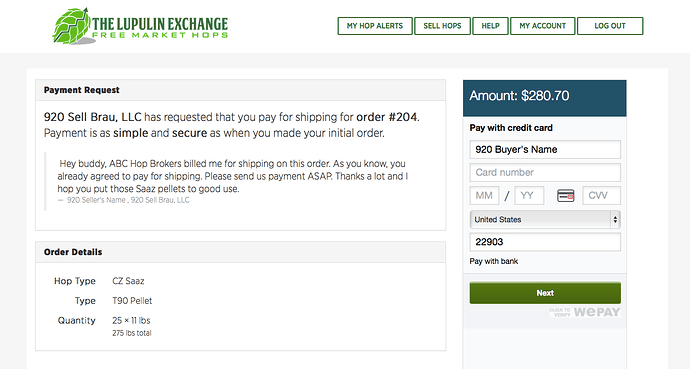 Funds deposit to the seller's WePay account just like funds from the sale did. All users have permanent records of every transaction, including reimbursements in My Account.
We'll be back again soon with announcements for new cool features. In the meantime, we're always looking for ways we can improve The Lupulin Exchange – from big new features to tiny things that get in your way. Please do not hesitate to contact us at support@lupulinexchange.com or comment below or via social media – we would love to hear from you!